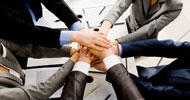 As a result of the exploitation activity a number of associated partners officially joined the project in order to contribute to the improvement of the project impact on their target groups, and to ensure the project sustainability by continued use of the project deliverables over the next years.

The associate partners of the Not Only Fair Play project are organisations interested in the promotion of sport at school. All associated partners share the project objectives and are willing to contribute to their achievement.

Institutions and organisations interested in becoming associated partners of the Not Ony Fair Play project can contact the national coordinators of the project.
Back to the Associated Partners
NAME OF THE ORGANISATION
Association of Physical and Health Educators in Finland
TYPE OF INSTITUTION
Non-profit association
ADDRESS
Rautatieläisenkatu 6
NAME OF CONTACT PERSON 1
Kasper Mäkelä
EMAIL OF CONTACT PERSON 1
NAME OF CONTACT PERSON 2
Tiina Apajalahti
EMAIL OF CONTACT PERSON 2
BRIEF DESCRIPTION OF THE ORGANISATION
The Association of Physical and Health Educators in Finland is a non-profit pedagogic organization. Our
main goal is to promote Physical and Health Education in Finland in close co-operation with the
neighbouring countries in the Baltic Region and Scandinavia. We are also represented in the European
Physical Education Association (EUPEA). Our association's main goals are; to give advice to our
members in various occupational matters, and to organize annual professional development courses,
events and seminars.
HOW THE ORGANISATION WILL CONTRIBUTE TO THE DISSEMINATION AND EXPLOITATION OF THE PROJECT RESULTS
Results of the project will be disseminated in the professional development of HPE teachers and in the
magazine of the HPE teachers. Also newsletters from the project will be directed to the members of
physical and health educators.