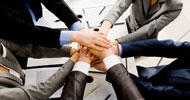 As a result of the exploitation activity a number of associated partners officially joined the project in order to contribute to the improvement of the project impact on their target groups, and to ensure the project sustainability by continued use of the project deliverables over the next years.

The associate partners of the Not Only Fair Play project are organisations interested in the promotion of sport at school. All associated partners share the project objectives and are willing to contribute to their achievement.

Institutions and organisations interested in becoming associated partners of the Not Ony Fair Play project can contact the national coordinators of the project.
Back to the Associated Partners
NAME OF THE ORGANISATION
Cultural and Sports Association of Finnish Vocational Education and Training, SAKU
TYPE OF INSTITUTION
Sport Organisation
ADDRESS
Mustanlahdenkatu 3-7 E, 33210 Tampere
NAME OF CONTACT PERSON 1
Miia Uskalinmäki
EMAIL OF CONTACT PERSON 1
NAME OF CONTACT PERSON 2
Susanna Ågren
EMAIL OF CONTACT PERSON 2
BRIEF DESCRIPTION OF THE ORGANISATION
Cultural and Sports Association of Finnish Vocational Education and Training, SAKU, is a cultural and sports association and collaboration organisation of Finnish vocational education. It was founded in 1949. The members of the association consist of 67 vocational education providers (87 % of the whole vocational education in Finland). SAKU provides activities for both, staff and students. The aim of SAKU is to promote the working capacity and well-being, working together and the joy of living in vocational education
HOW THE ORGANISATION WILL CONTRIBUTE TO THE DISSEMINATION AND EXPLOITATION OF THE PROJECT RESULTS
SAKU offers an extensive partner network. In addition to our members of vocational education providers, our partner network consists also a number of different association and organisations working with well-being. We can easily distribute the results and outcomes of the project to our members (educational institutions) and other network partners by our Arjen arkki -services. Arjen arkki -services is coordinating project work in SAKU. It has good internet based tools for promoting project outcomes (bulletins, newsletters and data bank). It also uses traditional meeting places, for example, seminars, booths, meetings and other encounter places around vocation education and well-being.