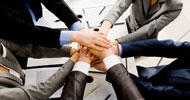 As a result of the exploitation activity a number of associated partners officially joined the project in order to contribute to the improvement of the project impact on their target groups, and to ensure the project sustainability by continued use of the project deliverables over the next years.

The associate partners of the Not Only Fair Play project are organisations interested in the promotion of sport at school. All associated partners share the project objectives and are willing to contribute to their achievement.

Institutions and organisations interested in becoming associated partners of the Not Ony Fair Play project can contact the national coordinators of the project.
Back to the Associated Partners
NAME OF THE ORGANISATION
Olarin Voimistelijat
TYPE OF INSTITUTION
Sport Organisation
ADDRESS
Alaportti 4, 02210 Espoo
NAME OF CONTACT PERSON 1
Katariina Hollström
EMAIL OF CONTACT PERSON 1
BRIEF DESCRIPTION OF THE ORGANISATION
Olari Gymnastics Association (OVO) was founded in Espoo Finland in 1981. Today OVO offers Aesthetics Group Gymnastics, Rhythmic Gymnastics and a variety of gymnastic lessons as a hobby for its over 1 750 members. Some 250 girls compete in Aesthetics Group Gymnastics and Rhythmic Gymnastics. Ms. Anneli Laine-Näätänen is the Head Coach.

With seven World Championship gold medals, two silver and one bronze medal OVO is the leading association in Aesthetics Group Gymnastics.
HOW THE ORGANISATION WILL CONTRIBUTE TO THE DISSEMINATION AND EXPLOITATION OF THE PROJECT RESULTS
Olarin Voimistelijat association wishes to be an associated partner in the project because we fully support the aims and objectives of the project and recognise the strategic importance of the project outcomes to improve the current situation at European level in the field of action. We want to develop sport culture in our home city Espoo. Our athletes want to give and receive peer support.

The role this organisation expects to play in the project includes:
• Exchange of experience and expertise during and after the project
• Participation in the Dissemination of the project information
• Promotion of the information about the project to our network of contacts
• Contribution to exploitation and sustainability of the project results