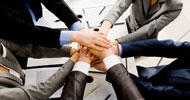 As a result of the exploitation activity a number of associated partners officially joined the project in order to contribute to the improvement of the project impact on their target groups, and to ensure the project sustainability by continued use of the project deliverables over the next years.

The associate partners of the Not Only Fair Play project are organisations interested in the promotion of sport at school. All associated partners share the project objectives and are willing to contribute to their achievement.

Institutions and organisations interested in becoming associated partners of the Not Ony Fair Play project can contact the national coordinators of the project.
Back to the Associated Partners
NAME OF THE ORGANISATION
Esport Oilers
TYPE OF INSTITUTION
Sports Organisation
ADDRESS
Koivu-Mankkaan tie 5, 02200 Espoo
WEB SITE
www.esportoilers.fi
NAME OF CONTACT PERSON 1
Henry Myyryläinen
EMAIL OF CONTACT PERSON 1
BRIEF DESCRIPTION OF THE ORGANISATION
Esport Oilers, founded in 1990, is a floorball club based in Espoo. It is one of the biggest floorball clubs in Finland and has more than thousand members. It has junior teams for both girls and boys and also a team called "The Oil men" that plays in the Finnish floorball league.