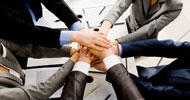 As a result of the exploitation activity a number of associated partners officially joined the project in order to contribute to the improvement of the project impact on their target groups, and to ensure the project sustainability by continued use of the project deliverables over the next years.

The associate partners of the Not Only Fair Play project are organisations interested in the promotion of sport at school. All associated partners share the project objectives and are willing to contribute to their achievement.

Institutions and organisations interested in becoming associated partners of the Not Ony Fair Play project can contact the national coordinators of the project.
Back to the Associated Partners
NAME OF THE ORGANISATION
Foundation for the Development of Physical Activity
TYPE OF INSTITUTION
Sport foundation
ADDRESS
84-100 Puck, al. Lipowa 3
NAME OF CONTACT PERSON 1
Katarzyna Werner
EMAIL OF CONTACT PERSON 1
NAME OF CONTACT PERSON 2
Marta Dżeżdżon
EMAIL OF CONTACT PERSON 2
BRIEF DESCRIPTION OF THE ORGANISATION
The statutory aim of the foundation is to undertake and support initiatives and activities conducive to the development of physical culture, in particular:
- dissemination of physical culture,
- sport training,
- organization of sport and recreational events,
- construction, expansion and maintenance of the sport facilities and equipment of physical activity,
- training and professional development of employees and activists of physical education,
- international cooperation in the field of physical activity,
- refundable and non-refundable support for the physical activity institutions.
HOW THE ORGANISATION WILL CONTRIBUTE TO THE DISSEMINATION AND EXPLOITATION OF THE PROJECT RESULTS
Dissemination of information about the Not Only Fair Play project in the framework of the Foundation educational activities and through online information channels.