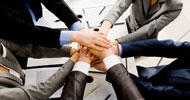 As a result of the exploitation activity a number of associated partners officially joined the project in order to contribute to the improvement of the project impact on their target groups, and to ensure the project sustainability by continued use of the project deliverables over the next years.

The associate partners of the Not Only Fair Play project are organisations interested in the promotion of sport at school. All associated partners share the project objectives and are willing to contribute to their achievement.

Institutions and organisations interested in becoming associated partners of the Not Ony Fair Play project can contact the national coordinators of the project.
Back to the Associated Partners
NAME OF THE ORGANISATION
Tapiolan Honka ry
TYPE OF INSTITUTION
Sport Organisation
ADDRESS
Urheilupuistontie 2, 02200 Espoo
WEB SITE
www.tapiolanhonka.fi
NAME OF CONTACT PERSON 1
Anne Eklund
EMAIL OF CONTACT PERSON 1
NAME OF CONTACT PERSON 2
Vesa Vertio
EMAIL OF CONTACT PERSON 2
BRIEF DESCRIPTION OF THE ORGANISATION
Tapiolan Honka is Finland's biggest basketball club. Founded in 1957, Tapiolan HOnka has more tha 900 youth players, over 300 adult players and over 80 coaches. More than 70 teams participate in Finnish Basketball Associations' leagues. Clubs' operating area is southern Espoo and more specifically Tapiola region.
Tapiolan Honka's purpose is to promote physical activity and sports in its operating area. People of various backgrounds have the opportunity to participate. We have activities for all age groups: from toddlers in our Toddler Club to grandparents in our senior teams.
Our women's team playes in the National Championship Series and men's team in the National First Division Series.
Tapiolan Honka organises three yearly camps for youth players. In co-operation with another Espoo-based basketball club, EBT, we organise on of Europe's biggest youth basketball tournaments every August.
HOW THE ORGANISATION WILL CONTRIBUTE TO THE DISSEMINATION AND EXPLOITATION OF THE PROJECT RESULTS
We will make a news about the project results and let our members and other basketball clubs know about results. Also we can use those results when we are planning how to improve practising possibilities of young players.