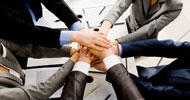 As a result of the exploitation activity a number of associated partners officially joined the project in order to contribute to the improvement of the project impact on their target groups, and to ensure the project sustainability by continued use of the project deliverables over the next years.

The associate partners of the Not Only Fair Play project are organisations interested in the promotion of sport at school. All associated partners share the project objectives and are willing to contribute to their achievement.

Institutions and organisations interested in becoming associated partners of the Not Ony Fair Play project can contact the national coordinators of the project.
Back to the Associated Partners
NAME OF THE ORGANISATION
A.S.D. Pallavolo Acqui Terme
TYPE OF INSTITUTION
Sport organisation
ADDRESS
Via G. Carducci 19
WEB SITE
www.pallavoloacqui.it
NAME OF CONTACT PERSON 1
Simonetta Bogliolo
EMAIL OF CONTACT PERSON 1
Fabrizio Foglino
BRIEF DESCRIPTION OF THE ORGANISATION
A.S.D. Pallavolo Acqui Terme is a non profit organisation that offers volleyball at all levels to young people between the ages of eight and eighteen. Three of the organisation's teams participate in national and regional championships and more than one hundred young people learn to play volley in ten different teams.
HOW THE ORGANISATION WILL CONTRIBUTE TO THE DISSEMINATION AND EXPLOITATION OF THE PROJECT RESULTS
A.S.D. Pallavolo Acqui Terme will contribute by disseminating information regarding NOFP among those who come into contact with our organisation both at home and during events in other locations.