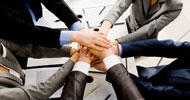 As a result of the exploitation activity a number of associated partners officially joined the project in order to contribute to the improvement of the project impact on their target groups, and to ensure the project sustainability by continued use of the project deliverables over the next years.

The associate partners of the Not Only Fair Play project are organisations interested in the promotion of sport at school. All associated partners share the project objectives and are willing to contribute to their achievement.

Institutions and organisations interested in becoming associated partners of the Not Ony Fair Play project can contact the national coordinators of the project.
Back to the Associated Partners
NAME OF THE ORGANISATION
Club "Vanguard" – Sport Association
TYPE OF INSTITUTION
Sport Organisation
CITY
Kyustendil- south west region
ADDRESS
Str. Tzar Osvoboditel 253
NAME OF CONTACT PERSON 1
Anton Sotirov
EMAIL OF CONTACT PERSON 1
BRIEF DESCRIPTION OF THE ORGANISATION
Organization is a Citizen Association for non-profit activities type NGO. Aim of the association is: to work for development and confirmation of the citizen's society, human rights and freedom and personal and social realization and integration and especially of youth; development of the science, techniques, and technologies; education; ecology and restoration of the nature and recuperation of the human health; development of the art and culture; protection, restoration and popularization of cultural-historical inheritance, folklore and traditions; support of the industry, agriculture, business, labor market, tourism, and sport.
Means for achievement of the aims are: membership due, sponsorship, donation, and administration of funds in native and foreign currency with purpose financing of programs, projects, and activities of third juridical or physical persons. The funds can be provided by government or private juridical or physical persons from the country and abroad.
HOW THE ORGANISATION WILL CONTRIBUTE TO THE DISSEMINATION AND EXPLOITATION OF THE PROJECT RESULTS
Persons involved in the project are teachers and administrative staff with strong experience in project preparation and implementation of different types of NGO's and youth's projects, including mobility of staff and students. All educators are experienced teachers who are the leading educators in the country. NGO widely develop different outclass activities. Personnel involved in the project have a number of participations in different projects, including school partnership projects