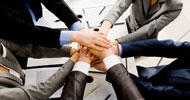 As a result of the exploitation activity a number of associated partners officially joined the project in order to contribute to the improvement of the project impact on their target groups, and to ensure the project sustainability by continued use of the project deliverables over the next years.

The associate partners of the Not Only Fair Play project are organisations interested in the promotion of sport at school. All associated partners share the project objectives and are willing to contribute to their achievement.

Institutions and organisations interested in becoming associated partners of the Not Ony Fair Play project can contact the national coordinators of the project.
Back to the Associated Partners
NAME OF THE ORGANISATION
Istituto di Istruzione Superiore "Leonardo da Vinci"
TYPE OF INSTITUTION
Public School
WEB SITE
www.vincialessandria.it
NAME OF CONTACT PERSON 1
PERTUSI LICIA
EMAIL OF CONTACT PERSON 1
NAME OF CONTACT PERSON 2
LENTI ANTONELLA
BRIEF DESCRIPTION OF THE ORGANISATION
I.I.S. Leonardo da Vinci welcomes students from 14 to 19 years –promoting development of knowledge, quality and ability of its students by integrating them with a range of essential skills for young people to look out at the world of work or to continue their studies at university level.
HOW THE ORGANISATION WILL CONTRIBUTE TO THE DISSEMINATION AND EXPLOITATION OF THE PROJECT RESULTS
The results of the project will be publicized through articles in local newspapers and in our school website. They will also be shares in occasion of our traditional parents meetings