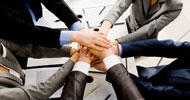 As a result of the exploitation activity a number of associated partners officially joined the project in order to contribute to the improvement of the project impact on their target groups, and to ensure the project sustainability by continued use of the project deliverables over the next years.

The associate partners of the Not Only Fair Play project are organisations interested in the promotion of sport at school. All associated partners share the project objectives and are willing to contribute to their achievement.

Institutions and organisations interested in becoming associated partners of the Not Ony Fair Play project can contact the national coordinators of the project.
Back to the Associated Partners
NAME OF THE ORGANISATION
URHEA - The Metropolitan NOC Elite Sports Academy
TYPE OF INSTITUTION
Sports Academy
ADDRESS
Mäkelänkatu 47, 00550 Helsinki
PL 3808
00099 Helsingin kaupunki
NAME OF CONTACT PERSON 1
Juha Dahlström
EMAIL OF CONTACT PERSON 1
BRIEF DESCRIPTION OF THE ORGANISATION
The Metropolitan NOC Elite Sports Academy (URHEA), approved by The Finnish Olympic Committee, got started in 2003. It cooperates closely with the High Performance Unit (HPU). An URHEA-foundation is related to the Metropolitan NOC Elite Sports Academy (URHEA). URHEA is a cooperation network that supports athletes' everyday training and exercise, helps to balance sport and school, develops the conditions for exercising sports and brings the expertise of coaching to the everyday life of trainers and athletes. The main idea of URHEA is that "By living better your everyday life, you improve your performances". The activities that URHEA provides are meant for young athletes that target at the top level and for those who already are on a top level on an international scale.
HOW THE ORGANISATION WILL CONTRIBUTE TO THE DISSEMINATION AND EXPLOITATION OF THE PROJECT RESULTS
Exchange of experience and expertise during and after the project
Participation in the Dissemination of the project information
Promotion of the information about the project to our network of contacts
Contribution to exploitation and sustainability of the project results