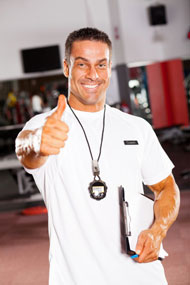 They are the main point of reference for students at school
Back to the Physical Education Teachers Toolkits
How to Motivate Students
Who Are Not Usually Involved In Physical Education Activities
A Toolkit for Physical Education Teacher

2. Communication with students
Direct communication is the key element to create a strong connection with students.
It is important to talk to every student. Praises and corrections are much appreciated by young people and even a negative comment is better than being ignored. However "A person can live for a month on a good compliment!", therefore ensure that you are at all times encouraging and celebrate successes.
The way you communicate is important as much as what you say. Always look in the eyes the students you are talking to and always address them by their names: students need to feel important for the others.
Communication is composed by 2 phases: talking and listening. No one of the two is more important than the other. Physical education teachers are known as not very good listeners, but when there is a problem, you should always try to listen carefully and understand what the problem is. Listen to the ideas and complaints as, behind them, you can find the real motivation the student is not willing to participate in the physical education class.
Learning Objective
The aim of this topic is to provide physical education teachers with suggestions on how to effectively communicate with students and enhance their motivation towards physical activity.
Online Resources