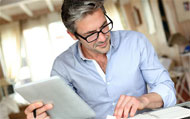 This section allows a constant communication and sharing of information among the project partners as far as the activities for the different intellectual outputs are concerned.

Each project partner uploads to this section on a three month basis.
Back to the Work in Progress List
click here for the printable version

Partners' Institution:
Dundee and Angus College

Project's period (from/to):
01 January 2015 - 31 December 2016

Activity concerned:
Transversal Activity 1: Preparatory Activity

Objectives of activities carried out:
Calendar of Activities
The calendar presents the activities to be carried out by the partners, the expected results and the deadlines to be respected

Standard of formats and tools to be used to carry out the project activities It contains the templates to produce the expected deliverables in the framework of every phase and transversal activity.

Communication Plan T
he communication strategy has the aim to guarantee the efficacy and efficiency both of the internal communication among the partners and the external communication with the target users.

Project Portal
The Not Only Fair Play Portal makes available all the project results.air Play Portal makes available all the project results.

Description of activities carried out:
30/09/15

- Project plan created based on the project deadlines
- Templates downloaded for creation of project materials
- Added links to project portal from D&A website

31/12/15

- Project plan updated
- Requested links from partner schools and associate partners

31/03/16

- Project plan updated
- Relevant materials uploaded to project portal
- Continued requesting links to portal from partner schools and associated partners

30/06/16

- Project plan updated
- Joined guideline forum and provided feedback
- Continued requesting links to portal from partner schools and associated partners

30/09/16

- Project plan updated
- Joined guideline forum and provided feedback on guidelines
- Continued requesting links to portal from partner schools and associated partners

31/12/16

- Final documentation completed
- Project close

Outcomes:
31/12/15

N/A

31/03/16

N/A

30/06/16

N/A

30/09/16

N/A

31/12/16

Project close

Evaluation of the work undertaken:
31/12/15

N/A

31/03/16

N/A

30/06/16

N/A

30/09/16

N/A

31/12/16

Project close