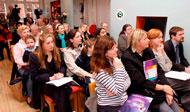 This section is meant to facilitate the sharing of information among partners as far as the dissemination events carried out are concerned.

A description of the event, the number of people participating and the evaluation of the event are available for each dissemination event.
Back to the Dissemination List
click here for the printable version

Partners' Institution:
Istituto Professionale Francesco Datini

Name of the person involved in the event:
Marco Manzuoli

Date of the event:
14 September 2015 - 14 September 2015

Type of Dissemination event:
Poster of the project at the two entrances of the schools at the beginning of new scholastic year

Description of Dissemination Event:
At the beginning of new years of courses, two posters of the NOFP Project have been showed and printed in order to let all teachers , students and families know the Project itself. The posters will remain on the panels for one month.

Target group:
Students
Teachers

Number of people reached by event:
1450

Held in:
Prato (Italy)

Outcomes, Results and Evaluation:
Looking at these posters all interested subjects could be ask information and detailed brochure of the Project

Supporting Documents: