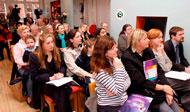 This section is meant to facilitate the sharing of information among partners as far as the dissemination events carried out are concerned.

A description of the event, the number of people participating and the evaluation of the event are available for each dissemination event.
Back to the Dissemination List
click here for the printable version

Partners' Institution:
INFOREF

Name of the person involved in the event:
Julien Keutgen and Martine Prignon

Date of the event:
08 December 2016

Type of Dissemination event:
Conference or Fair

Description of Dissemination Event:
Final conference "Mobiliser et Fédérer les élèves autours de projets en education physique et sportive – Partage de pratiques" ("Rallying and Federating students in physical and sport education projects – Sharing practices"). The conference took place at HELMo-Loncin, a college near Liège that trains physical education teachers. The conference was included in a group management lesson and was dedicated to students and stakeholders participation in PE projects. The attendants were HELMo-Loncin students. Their teacher, the headmistress and two invited PE teachers were also present. After an introduction by the teacher, Inforef presented the "Not Only Fair Play" project, explaining its context, target groups and objectives. Important points and links with what the students were studying were regularly emphasised by the headmistress. The portal and all its sections were then presented, showcasing examples of every section (case studies, initiatives, toolkits and guidelines). Finally, Inforef presented its participation in the sport event, "Rhéto Trophée", highlighting how it matched the project objectives. Then, François-Xavier Hénin, PE teacher at the associated school "Institut de la Providence" in Wavre, presented two initiatives from his school: - IPW Trophy is a competition inspired by "Rhéto Trophée" organised for sixth year students. It was described in the NOFP initiatives: http://notonlyfairplay.pixel-online.org/BP_iniziatives_report.php?id=4&cou=1&spo=0&aim=0 - A flashmob initiated by sixth year technical students that eventually involved all student from the school as well as teachers, administrative and maintenance staff. https://www.providence-wavre.be/4392/nous-sommes-fiers-de-vous-presenter-notre-flashmob/ Finally, Franz Letor, PE teacher at the associated school "Collège Notre-Dame de Bon Secours" in Binche, presented a diary he created for PE lessons. It includes students' progress in various areas all along their secondary education.

Target group:
Students
Teachers
Universities

Number of people reached by event:
52

Held in:
Liège (Loncin) (Belgium)

Outcomes, Results and Evaluation:
Large dissemination to future physical education teachers who could take inspiration from the project results in their future practice.
HELMo students' feedback on the project was collected after the presentations. They share the project objectives to promote sport at school and emphasise the importance of (secondary school) students' involvement and cooperation.

Supporting Documents: