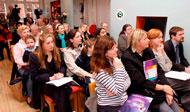 This section is meant to facilitate the sharing of information among partners as far as the dissemination events carried out are concerned.

A description of the event, the number of people participating and the evaluation of the event are available for each dissemination event.
Back to the Dissemination List
click here for the printable version

Partners' Institution:
I.I.S. Rita Levi-Montalcini

Name of the person involved in the event:
claudio giovanni bruzzone

Date of the event:
02 December 2016 - 02 December 2016

Type of Dissemination event:
Training Seminar

Description of Dissemination Event:
information course at the hospital "gaslini" of Genoa, an important reference point for the guys that combines all workshop activities with what can happen in life.

Target group:
Schools
Students
Teachers
Universities

Number of people reached by event:
15

Held in:
Genova (Italy)

Outcomes, Results and Evaluation:
knowledge of the basic techniques that can also be related, in a transversal way, to his companions in the form of tutoring.

Supporting Documents: