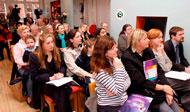 This section is meant to facilitate the sharing of information among partners as far as the dissemination events carried out are concerned.

A description of the event, the number of people participating and the evaluation of the event are available for each dissemination event.
Back to the Dissemination List
click here for the printable version

Partners' Institution:
Centrum Kształcenia Zawodowego i Ustawicznego Nr 1 - Ośrodek Kształcenia Ustawicznego Nauczycieli

Name of the person involved in the event:
Elżbieta Walkiewicz

Date of the event:
30 June 2015 - 30 June 2015

Type of Dissemination event:
Informative Mailing

Description of Dissemination Event:
Two documents were sent (by mail and by traditional post) to the Ministry of Sport and Tourism of the Republic of Poland. They included information about the project Not Only Fair Play with the request concerning the support the ministry can give to the project implementation. Also, the project brochure was attached so that the basic information was provided to the Minister Adam Korol and Mr Dariusz Buza the Director of the Department of Sport For All (responsible for all matters relating to the promotion of sport and physical activity at schools)

Target group:
Public Bodies

Number of people reached by event:
2

Held in:
Gdańsk (Poland)

Outcomes, Results and Evaluation:
Polish sport authorities at the higher level received the information about the project Not Only Fair Play. Looking forward to the contribution to the project implementation (dissemination of the project results).

Supporting Documents: