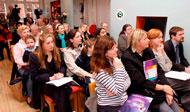 This section is meant to facilitate the sharing of information among partners as far as the dissemination events carried out are concerned.

A description of the event, the number of people participating and the evaluation of the event are available for each dissemination event.
Back to the Dissemination List
click here for the printable version

Partners' Institution:
Foundation of Cultural and Business Potential of Civil Society (FDCBPCS)

Name of the person involved in the event:
Zornitsa Staneva

Date of the event:
16 September 2016 - 16 September 2016

Type of Dissemination event:
Article on website

Description of Dissemination Event:
An article about the project with author Zornitsa Staneva was published on an online directory for scientific articles in different fields. The article presents the project, its main idea and outputs. It also includes a reference (link) to the NOFP portal. The article is accessible in Bulgarian language on the following address: http://statii.net/2016/%d1%83%d1%81%d0%bf%d0%b5%d1%88%d0%bd%d0%be%d1%82%d0%be-%d1%81%d1%8a%d1%87%d0%b5%d1%82%d0%b0%d0%b2%d0%b0%d0%bd%d0%b5-%d0%bd%d0%b0-%d0%be%d0%b1%d1%80%d0%b0%d0%b7%d0%be%d0%b2%d0%b0%d0%bd%d0%b8%d0%b5/

Target group:
Experts
General Public
Public Bodies
Sport Organization
Schools
Students
Teachers
Training Agencies
Universities
Association

Number of people reached by event:
100

Held in:
Sofia (Bulgaria)

Outcomes, Results and Evaluation:
The directory of articles, which published the article about NOFP is a big directory with many users. The articles there also go through a revision process where editors check the relevance, importance, text of the publications. So we believe such a publication would be beneficial for the project, since it also provides a link to the portal.

Supporting Documents: