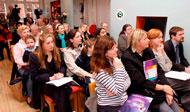 This section is meant to facilitate the sharing of information among partners as far as the dissemination events carried out are concerned.

A description of the event, the number of people participating and the evaluation of the event are available for each dissemination event.
Back to the Dissemination List
click here for the printable version

Partners' Institution:
Foundation of Cultural and Business Potential of Civil Society (FDCBPCS)

Name of the person involved in the event:
Miglena Molhova

Date of the event:
12 April 2016 - 15 April 2016

Type of Dissemination event:
Transnational Meetings

Description of Dissemination Event:
The meeting was held under the project "Learning families" in which FDCBPCS is a partner. The NOFP project and good practices were presented as part of FDCBPCS activities. The presentation was highly appreciated by the partnership and it was regarded that sport activities are a wonderful and useful tool to bring families, students and schools closer.

Target group:
Schools
Teachers
Training Agencies
Association

Number of people reached by event:
14

Held in:
Viterbo (Italy)

Outcomes, Results and Evaluation:
Professionals were informed of the possibilities of sport as a tool for social inclusion and for bringing closer families, students and schools. The event is evaluated as satisfactory.

Supporting Documents: