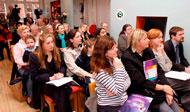 This section is meant to facilitate the sharing of information among partners as far as the dissemination events carried out are concerned.

A description of the event, the number of people participating and the evaluation of the event are available for each dissemination event.
Back to the Dissemination List
click here for the printable version

Partners' Institution:
Foundation of Cultural and Business Potential of Civil Society (FDCBPCS)

Name of the person involved in the event:
Miglena Molhova

Date of the event:
15 March 2016 - 15 March 2016

Type of Dissemination event:
Informative Mailing

Description of Dissemination Event:
Informative mailing towards all schools involved in the project was sent with the purpose of presenting the developed toolkits under the project and the fact that they are available in Bulgarian for more convenient use from the teachers. The mailing also consisted information of the future activities under the project - teacher's workshop and sport initiative.

Target group:
Schools
Teachers

Number of people reached by event:
30

Held in:
Sofia (Bulgaria)

Outcomes, Results and Evaluation:
The aim of the informative mailing on the one hand to inform teachers of the current project developments and on the other to urge them to take part in the future planned activities. It is considered the outcome was satisfactory, since we managed to organize the teachers' workshop with the necessary number of participants.

Supporting Documents: