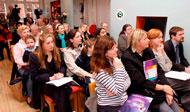 This section is meant to facilitate the sharing of information among partners as far as the dissemination events carried out are concerned.

A description of the event, the number of people participating and the evaluation of the event are available for each dissemination event.
Back to the Dissemination List
click here for the printable version

Partners' Institution:
Centrum Kształcenia Zawodowego i Ustawicznego Nr 1 - Ośrodek Kształcenia Ustawicznego Nauczycieli

Name of the person involved in the event:
Elżbieta Walkiewicz, Joanna Nadratowska-Ptak, Waldemar Moska, Bogumiła Przysiężna

Date of the event:
09 July 2015

Type of Dissemination event:
National Meeting

Description of Dissemination Event:
The representatives of CKZiU Nr 1 – OKUN visited Gdansk University of Physical Education and Sport ( http://www.en.awf.gda.pl/ ) to meet the rector of the university prof. Waldemar Moska and the vice dean of the Faculty of Tourism and Recreation prof. Bogumiła Przysiężna. The talk concerned the possibilities of cooperation between the two institutions in the framework of the Not Only Fair Play project. The main information about the project was presented and the issues concerning the responsibilities of associated partners were discussed.

Target group:
Experts

Number of people reached by event:
4

Held in:
Gdańsk (Poland)

Outcomes, Results and Evaluation:
The associated partner letter was signed by the rector of the university.
The planned common initiatives were included in the associated partner documents.

Supporting Documents: