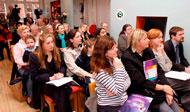 This section is meant to facilitate the sharing of information among partners as far as the dissemination events carried out are concerned.

A description of the event, the number of people participating and the evaluation of the event are available for each dissemination event.
Back to the Dissemination List
click here for the printable version

Partners' Institution:
Bilecik Provincial Directorate of National Education

Name of the person involved in the event:
Mustafa KAN-Project Coordinator

Date of the event:
01 May 2015 - 01 May 2015

Type of Dissemination event:
6 Monthly R&D Magazine

Description of Dissemination Event:
Research and Development Departments of Provincial Directorates prepare and publish a magazine with the information of their activities and projects twice a year. This edition is 2014-2 and published in 2015 May.

Number of people reached by event:
81

Held in:
Bilecik (Turkey)

Outcomes, Results and Evaluation:
The magazine was sent to 81 directorates and the general directorate of Ministry of education by e-mail. It was also uploaded on directorate web-site.

http://bilecik.meb.gov.tr/meb_iys_dosyalar/2015_02/25011750_bilecikargeblten20142_1.pdf

Supporting Documents: