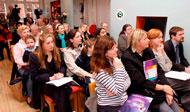 This section is meant to facilitate the sharing of information among partners as far as the dissemination events carried out are concerned.

A description of the event, the number of people participating and the evaluation of the event are available for each dissemination event.
Back to the Dissemination List
click here for the printable version

Partners' Institution:
Centrum Kształcenia Zawodowego i Ustawicznego Nr 1 - Ośrodek Kształcenia Ustawicznego Nauczycieli

Name of the person involved in the event:
Piotr Jaworski, Łukasz Bierzyński

Date of the event:
27 May 2015

Type of Dissemination event:
Article on website

Description of Dissemination Event:
Ośrodek Kształcenia Ustawicznego Nauczycieli has posted information, links, pictures and updates on its Facebook profile: www.facebook.com/OKUNGdansk and on website: www.okun.gda.pl/aktualnosci.php

Target group:
Enterprises
Experts
General Public
Public Bodies
Sport Organization
Schools
Students
Teachers
Training Agencies
Universities

Number of people reached by event:
hundreds

Held in:
Gdańsk (Poland)

Outcomes, Results and Evaluation:
Visitors of our website and Facebook profile know about the project.

Supporting Documents: