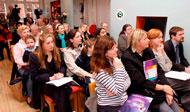 This section is meant to facilitate the sharing of information among partners as far as the dissemination events carried out are concerned.

A description of the event, the number of people participating and the evaluation of the event are available for each dissemination event.
Back to the Dissemination List
click here for the printable version

Partners' Institution:
Istituto Professionale Francesco Datini

Name of the person involved in the event:
Roberto Bellocci

Date of the event:
05 October 2015 - 05 October 2015

Type of Dissemination event:
Conference or Fair

Description of Dissemination Event:
Meeting to plan youth activities in football, in the district Empoli-Valdelsa, province of Florence. The object of meeting was the sports organization in the province of Florence, the presentation of the regulations and the rules of conduct of managers. It has been shown that the project, that has attracted interest and

Target group:
Association

Number of people reached by event:
40

Held in:
Empoli (Italy)

Outcomes, Results and Evaluation:
After the project presentation and distribution of brochure, the participants made some specific questions and showed good interest.

Supporting Documents: