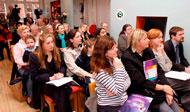 This section is meant to facilitate the sharing of information among partners as far as the dissemination events carried out are concerned.

A description of the event, the number of people participating and the evaluation of the event are available for each dissemination event.
Back to the Dissemination List
click here for the printable version

Partners' Institution:
Istituto Professionale Francesco Datini

Name of the person involved in the event:
Roberto Bellocci

Date of the event:
02 October 2015 - 02 October 2015

Type of Dissemination event:
National Meeting

Description of Dissemination Event:
The meeting took place in Florence on Oct. 2, 15 at the theater Sancat.The meeting has been organized by the FIGC LND Delegation of Florence. They were attended by the Provincial President of the Football Federation lnd, the Regional Coordinator Delo youth sector of the FIGC, the technical periphery of the Federation and the heads of 38 football clubs in the province of Florence.The meeting was about the sports organization in the province of Florence, the presentation of the regulations and the rules of conduct of managers.

Target group:
General Public
Association

Number of people reached by event:
40

Held in:
Florence (Italy)

Outcomes, Results and Evaluation:
The project has attracted interest and following some specific questions of sports clubs showed a good interest.

Supporting Documents: