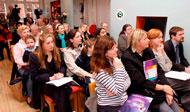 This section is meant to facilitate the sharing of information among partners as far as the dissemination events carried out are concerned.

A description of the event, the number of people participating and the evaluation of the event are available for each dissemination event.
Back to the Dissemination List
click here for the printable version

Partners' Institution:
RENASUP

Name of the person involved in the event:
Jean-Marc Petit

Date of the event:
08 September 2015

Type of Dissemination event:
Conference or Fair

Description of Dissemination Event:
Presentation of the Not Only Fair Play project to the general assembly of the Diocesan directors

Target group:
Experts
General Public
Schools
Students
Teachers
Universities

Number of people reached by event:
80

Held in:
(France)

Outcomes, Results and Evaluation:
There were 80 people at the General Assembly but as the Catholic education represents 2 millions students, we can hope the project will reach much more people.

Supporting Documents: