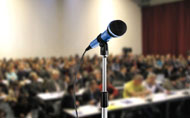 The Not Only Fair Play project was presented in a number of events in order to report about the activities carried out and the results achieved.

Title of the Conference
ICERI2015. 8th International Conference of Education, Research and Innovation

Date of the conference:
16-18 November 2015

Place of the conference:
Seville, Spain

Description of the conference:
ICERI, is an annual conference, which intends to bring together educational experts from all corners of the world. The main topic of the conference is "Facing the challenges of Education", as it sets the agenda for an in-depth discussion of the most important questions facing those in education today: How education should be provided? What are the newest learning methodologies? How can we learn in an innovative way? In a world of rapid technological changes, how can we adapt to the changes in its due time?

All these questions and many more are debated in the different interactive and thematic sessions, which will provide an excellent opportunity to acquire skills and get new ideas from different perspectives and innovative approaches in education around the world.

Conference web site:

List of participants:

Title of the article presented:

Pictures: