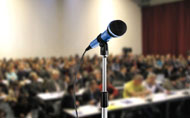 The Not Only Fair Play project was presented in a number of events in order to report about the activities carried out and the results achieved.

Title of the Conference
La Buona Scuola.Proposte e interventi per riprogettare l'Educazione Fisica nella scuola primariaThe "Good School". Proposals and interventions to design the Physical Education in the primary school

Date of the conference:
22 April 2016

Place of the conference:
Prato, Italy

Description of the conference:
The conference aims to provide an overview of the projects concerning the school and physical activity. The conference offers a reflection on the sporting youth policy, linking good practices with the lifestyle. The aim is to redesign and rethink school sports, starting from primary school. The conference was addressed to school teacher and directors, policy makers, sport association which take part in sport activities at school.

Conference web site:

Programme:

Certificate:

Title of the article presented:

Pictures: