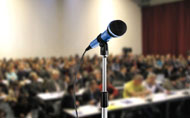 The Not Only Fair Play project was presented in a number of events in order to report about the activities carried out and the results achieved.

Title of the Conference
The Art of Teaching. A Debate on Tolerance.

Date of the conference:
02 June 2016

Place of the conference:
Gdańsk, Poland

Description of the conference:
The conference named "The Art of Teaching. A Debate on …" is an annual educational event organized by CKZiU Nr 1 - OKUN in Gdańsk. It aims at focusing the attention of Gdańsk pedagogical community on essential educational and social issues. Every year we invite teachers, school directors, academic staff and people connected with education decision making. This year the meeting took place in a beautiful, historical Great Hall of Gdańsk Old Town Hall , the seat of our collaborating institution The Baltic Sea Cultural Centre in Gdańsk. The key word of the debate was "tolerance", a topic discussed by representatives of different environments from many points of view.
The theme of the Not Only Fair Play Project includes the ethical dimension of sport, it is complementary with the topic of the meeting. CKZiU Nr 1 - OKUN arranged the poster session on the project and promoted the contribution of the NOFP project to the enhancement of ethical approach in sport and physical education at schools.

Conference web site:

List of participants:

Programme:

Certificate:

Title of the article presented:
Poster session on the Not Only Fair Play Project

Pictures: