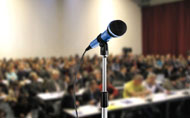 The Not Only Fair Play project was presented in a number of events in order to report about the activities carried out and the results achieved.

Title of the Conference
4th International Scientific Conference "Sport and security"

Date of the conference:
18-19 May 2016

Place of the conference:
Sofia, Bulgaria

Description of the conference:
The conference aims at bringing together scientific knowledge achieved by national and international scientific community in the field of security in the conduct of sporting events, and implementation of professional discussions on European and international policies - the fight against violence in the stadiums, countermeasures against match-fixing, anti-doping measures, opposition to hooliganism and racism in sport, as well as abuse of athletes (especially children and youth), survival and self-defense and others.

Conference web site:

Programme:

Certificate:

Title of the article presented:
Ethical approach in sport as a necessity to turn sport into instrument for social inclusion and overcoming the risks of doping and aggressive behaviour – the Not Only Fair Project.
PDF