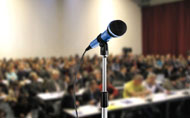 The Not Only Fair Play project was presented in a number of events in order to report about the activities carried out and the results achieved.

Title of the Conference
The 12th eLearning and Software for Education Conference - eLSE 2016

Date of the conference:
April 21st – 22nd 2016

Place of the conference:
Bucharest, Romania

Description of the conference:
Central theme of eLSE 2016 is eLearning Vision 2020!
The purpose of the annual international scientific conference on "eLearning and software for education" is to enable the academia, research, and corporate entities to boost the potential of the technology enhanced learning environments, by providing a forum for exchange of ideas, research outcomes, business case and technical achievements. Academics, independent scholars, researchers and students from all around the world exchange ideas and discuss issues concerning all fields of Education.

Conference web site:

List of participants:

Programme:

Title of the article presented:

Pictures: