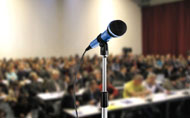 The Not Only Fair Play project was presented in a number of events in order to report about the activities carried out and the results achieved.

Title of the Conference
The 10th annual International Technology, Education and Development Conference, INTED2016

Date of the conference:
7 – 9 March 2016

Place of the conference:
Valencia, Spain

Description of the conference:
INTED is one of the largest international education conferences for lecturers, researchers, technologists and professionals from the educational sector. It has become a reference event where more than 700 experts from 80 countries get together and present their projects and share their knowledge on teaching and learning methodologies, educational innovations and experiences in technology and development. INTED is more than a conference, it is an ideal platform for strategic international networking. The best place to present innovations and projects about education and technology.

Conference web site:

Programme:

Title of the article presented:

Pictures: