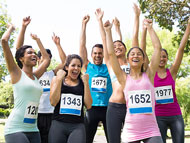 Collection of initiatives aiming at promoting:
awareness of importance of sport at school level
social inclusion and prevent early school leaving
an ethical approach to sport
all types of sports at school level

Title of the initiative:
welcome first classes

Web site of the initiative:
www.iislevimontalcini.it

Date of the Event:
Saturday 12/09/2015

Country:
Italy

City:
Acqui Terme (Al)

Sport:
Trekking

Aims:
promotion of an ethical approach to sport
promotion of awareness of importance of sport at school level
promotion of social inclusion and prevention of early school leaving through sport

Description of the initiatives:
The institute Montalcini, every year (since 2007) for the reception of the first classes (about 150 students aged 14-15) is organizing a trek-easy departing from various locations of the Institute, arriving at Ovrano location and then back to school. Teachers from different disciplines are participating, to promote an interdisciplinary project.
The route runs through the so called "broom" path through a grove of various vegetation and continues through fields of cultivation of vineyards to the hamlet of Ovrano.
The event is held in conjunction with guides of the CAI of Acqui Terme and the local tourist company in Ovrano (the so called PRO-LOCO) offering a snack at the arrival
The initiative aims to promote socialization among students, the approach to sport activities in the natural environment and sensitize students to respect nature.

Iniziative in national language

Supporting Documents: