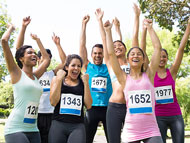 Collection of initiatives aiming at promoting:
awareness of importance of sport at school level
social inclusion and prevent early school leaving
an ethical approach to sport
all types of sports at school level

Title of the initiative:
Kasva urheilijaksi Jyväskylässä

Web site of the initiative:

Date of the Event:
ongoing activities during the school year

Country:
Finland

City:
Jyväskylä

Aims:
promotion of all types of sports
promotion of an ethical approach to sport
promotion of awareness of importance of sport at school level
promotion of social inclusion and prevention of early school leaving through sport

Description of the initiatives:
The aim of this inititiative is that children living in Jyväskylä get interested in sports and they get the opportunity to become good athletes. They should practice sports and other activities at least for 20 hours per week and this time should consist of various independent and coached exercices and sports.
This is possible when the adults that are near these children and young people are professionals and carry out their job well. They should cooperate together closely and also should learn one from the other. The networks of schools, homes and sport teams in Jyväskylä, by a tight cooperation, the personal development of each child. Another aim of this initiative is that the city of Jyväskylä becomes the number one among Finnish cities when talking about the circumstances of sports and the availability of sports for children and young people.
The methods, tools and innovations that are developed in this initiative are documented, evaluated and disseminated all around Finland. There are different participants in this process: different sport teams in Jyväskylä, research centers, Keski-Suomen liikunta, Keski-Suomen Urheiluakatemia, the City of Jyväskylä, Valo association and The Finnish Olympic Committee.

Supporting Documents: