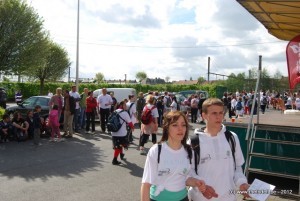 Title of the initiative:
"Rhéto-défi" Mouscron

Web site of the initiative:
www.rhetodefi.be

Date of the Event:
Every year since 1998. Usually the second Friday after the Easter holiday

Country:
Belgium

City:
Municipalities of Mouscron-Comines and of Tournai-Kain

Sport:
Acrobatic gymnastics, Archery, Badminton, Bike & run, Cycling, Golf, Multi sports, Orienteering, Shooting, Tchoukball, Volleyball

Aims:
promotion of all types of sports
promotion of awareness of importance of sport at school level
promotion of social inclusion and prevention of early school leaving through sport

Description of the initiatives:
"Rhéto-défi" is a "RAID" day proposed to the 9 Catholic schools of Mouscron and Comines aiming to:
• development
• physical education for all
• education about health
• education about responsibilities
• education about solidarity

The day is organised by the federation of physical education teachers. It includes 17 trials, 17 challenges to achieve in inter-school teams (mainstream and special education). Equipped with a "raid-book", the teams have to find their way to go from one trial to the next.
This activity highlights a humanitarian project. The money collected by the students during the trials is donated to a humanitarian association. In 2015, the association was "C Pour Eux AISBL", active in aid to sick children, via "La Chaîne de l'espoir".
"Rhéto-défi" has several objectives regarding children: learning how to make a long-lasting physical effort, better knowing oneself, better knowing the physical education course, better cooperating and "recognising" others.

For the teacher, there is a threefold stake: improving the image of physical education, motivating students and cooperating in work.

The 30th of April 2015 the 17th edition took place. Over 800 sixth year students from Mouscron-Comines and 400 students from Tournai-Kain, aged between 18 and 20 participated in the "raid" day.
A couple of evaluations from several editions:
« … having seen several teams, from all schools, the observation was the same: motivation, kindness, humour…hats off! What a beautiful experience and what a pleasure to see those students acting… ».

« Despite the cold and rain, our students distinguished themselves with their courage and their will to go through with it! Tall the comments agree; a sportive and humanitarian commitment that warms the heart… ».

« A few days after rhéto-défi, the pressure fell and here comes the time for conclusions!… the comments gathered are all positive and enthusiastic ».

Iniziative in national language

Supporting Documents: