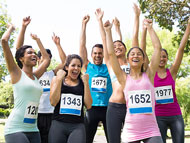 Collection of initiatives aiming at promoting:
awareness of importance of sport at school level
social inclusion and prevent early school leaving
an ethical approach to sport
all types of sports at school level

Title of the initiative:
Kaikki peliin!

Web site of the initiative:

Date of the Event:
During the school year

Country:
Finland

City:
Jyväskylä

Sport:
Baseball, Basket, Football, Winter Sports

Aims:
promotion of all types of sports
promotion of an ethical approach to sport
promotion of awareness of importance of sport at school level
promotion of social inclusion and prevention of early school leaving through sport

Description of the initiatives:
Twelve sport clubs in Jyväskylä region have started cooperation in the field of marketing sport events and organising school visits. This is probably the first and biggest initiative in cooperation among sport clubs of the top level in Finland. Both winter and summer sport activities are represented in the networks. The initiative included also school visits in 2014, targeting at pupils from 7 to 12 years old. One of the aims of these visits is to raise awareness among young people of becoming a team player. School classes can be considered partly as sport teams: pupils have to follow common rules, set goals, help each other and face joy, success but also disappointments in a classroom. The sport clubs want thus motivate young pupils to act as team players even at school. A good team player may not necessary be the best player of the team but he or she is important for the team. When visiting the schools, the players and representatives of the sport clubs give tickets to the sport events and competitions and in this way invite the pupils to get familiar with different sports and activities. The pupils have free access to football and baseball matches in summer and to ice hockey, futsal and bandy matches in winter. Having the opportunity to go and watch the matches may help the young pupils to choose their own sport activity. It also provides more equal opportunities to participate in many sport activities.

Supporting Documents: