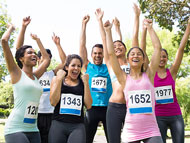 Collection of initiatives aiming at promoting:
awareness of importance of sport at school level
social inclusion and prevent early school leaving
an ethical approach to sport
all types of sports at school level

Title of the initiative:
Ethics in sports

Web site of the initiative:

Date of the Event:
2012-2014

Country:
Belgium

Sport:
Multi sports

Aims:
promotion of an ethical approach to sport

Description of the initiatives:
To provide expertise in the domain of ethics in sports, including issues with regard to integrity, sexual abuse and violence. This project consists of scientific research. This scientific research is translated into practice.

Sport federations are supported in developing ethical policies (based on personal guidance and training moments) and is therefore providing substantive guidance but also developing management skills.Trainers and teachers are being trained in the field of proactive behavior and ethical dilemmas in decision making.

Supporting Documents: