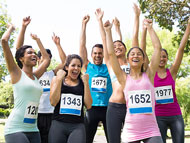 Collection of initiatives aiming at promoting:
awareness of importance of sport at school level
social inclusion and prevent early school leaving
an ethical approach to sport
all types of sports at school level


Title of the initiative:
Full Moon Run

Web site of the initiative:

Date of the Event:
31.07.2015

Country:
Romania

City:
Bucuresti

Sport:
Bike & run

Aims:
promotion of an ethical approach to sport

Description of the initiatives:
This event promotes a healthy life through sports. Also it shows that sports can be fun, it is happening in the midnight and it is involving lasers, balloons and music. After the race, all the people are invited to a sports thematic party.
There are two kinds of races:
1. For 5 km that is not timed
2. For 10 km that is timed
This is the 1st edition and is expected over 500 people.

Supporting Documents: