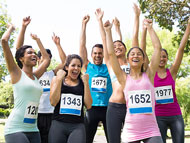 Collection of initiatives aiming at promoting:
awareness of importance of sport at school level
social inclusion and prevent early school leaving
an ethical approach to sport
all types of sports at school level


Title of the initiative:
Saint Ana Lake Exterra Triathlon

Web site of the initiative:

Date of the Event:
11.07.2015

Country:
Romania

City:
Baile Tusnad, Transilvania

Sport:
Athletics, Cycling

Aims:
promotion of an ethical approach to sport

Description of the initiatives:
Organizers:
Extreme Sport Club - Baile Tusnad & Asociatia ADVENTURE
Club mission: the promotion and popularization of mass and extreme sports
Club members are 100% amateurs.
Within this competition the Organizers would like to offer the possibility of outdoor sporting in an organized way and they would also like to distract peoples attention from the every day stressful and sedentary life.
This is an annual event, in year 2015 were involved around 150 people.

Supporting Documents: