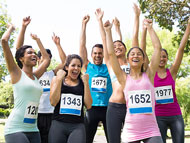 Collection of initiatives aiming at promoting:
awareness of importance of sport at school level
social inclusion and prevent early school leaving
an ethical approach to sport
all types of sports at school level


Title of the initiative:
School National Championships

Web site of the initiative:

Date of the Event:
March-August 2015

Country:
Romania

Sport:
Baseball, Martial Art, Rowing, Swimming, Winter Sports

Aims:
promotion of all types of sports
promotion of awareness of importance of sport at school level
promotion of social inclusion and prevention of early school leaving through sport

Description of the initiatives:
The organiser of this event is Romanian Ministry of Education and Research and it takes place at national level. It takes place every ear.
The aim is to develop harmonious people through physical education, health and hygiene education. Instilling in students spirit of discipline, fair play, stamp out violence in sport, through organized and systematic practice mass sports. And not least optimize training school sport teams that will represent Romania at International Competitions organized by the International Federation School Sports.
The participants are divided by age and grade. The average number of participants is around 3000. If we look at the varied kind of sports and the huge number of participants (that is increasing every year) we can say that the main goal is reached.

Supporting Documents: