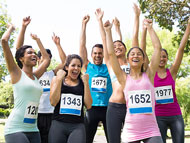 Collection of initiatives aiming at promoting:
awareness of importance of sport at school level
social inclusion and prevent early school leaving
an ethical approach to sport
all types of sports at school level

Title of the initiative:
Sports and science

Web site of the initiative:

Date of the Event:
2006-2015

Country:
Belgium, Bulgaria, Finland, France, Italy, Poland, Romania, Turkey, United Kingdom

City:
NA

Sport:
Baseball, Basket, Dancing, Football, Gymnastics, Hockey, Tennis

Aims:
promotion of awareness of importance of sport at school level

Description of the initiatives:
Through giving ideas of science projects related to sports this initiative gives students notion on the one hand how to use their science knowledge to be better in sports and on the other hand it promotes the importance of sports in terms of health. For example it shows how to calculate the calorie burn in each sport, which exercises can give you better flexibility of body and so on.
The initiative offers science and sport related ideas for school students to work on in different levels - primary school, secondary school.

Supporting Documents: