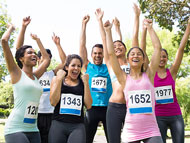 Collection of initiatives aiming at promoting:
awareness of importance of sport at school level
social inclusion and prevent early school leaving
an ethical approach to sport
all types of sports at school level

Title of the initiative:
Promotional Activities 4th UEFA European Under-17 Championship

Web site of the initiative:
n.a.

Date of the Event:
The project dates back to 2005

Country:
Italy

City:
Tirrenia (Pisa)

Sport:
Football

Aims:
promotion of an ethical approach to sport
promotion of awareness of importance of sport at school level

Description of the initiatives:
Promoter: F.I.G.C – Football Italian Federation - National Youth and School Branch
Participants:
• U.E.F.A. - Union of European Football Association
• F.I.G.C. Tuscan Regional Committee
• Pisa Education Office
• 8 Secondary schools in the province of Pisa
• 8 National Representatives of Men's Under-17 teams: Italy; Croatia; Netherlands; Israel; Switzerland; Belarus, Turkey, England.

The project involved the twinning of eight secondary schools, in particular, two classes in the 16 to 18 age group of each school, respectively, with each of the eight countries' teams participating in the Championship finals.
The aim was to create significant opportunities for discussion not only among sport young players from different countries, but also between young people - boys and girls - who lived in the towns that hosted the football tournament. It was meant to be a meeting and an exchange between young people of different ethnic groups that the football game - a universal language - could change into an opportunity for a useful exchange of experiences.
Objective:
Create a Welcome Committee coordinated by the students of each school, which enhance hospitality and integration through personal knowledge, cultural confrontation, exchange of experiences and recreational activities.

Supporting Documents: