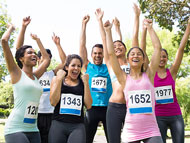 Collection of initiatives aiming at promoting:
awareness of importance of sport at school level
social inclusion and prevent early school leaving
an ethical approach to sport
all types of sports at school level

Title of the initiative:
National Sport Day at School.

Date of the Event:
September, 12 to September, 20th 2015

Country:
France

City:
Maubeuge

Sport:
Badminton, Dancing, Table tennis, Volleyball

Aims:
promotion of all types of sports
promotion of awareness of importance of sport at school level

Description of the initiatives:
The initiative took place in Notre Dame de Grâce.

It gathered students, teachers and parents and consisted in sporting and playful activities. The National Sport Day at school paved the way to an entire week dedicated to sport, in association with academic sport federations, sport in firms and the entire sport organization (National French Olympic and Sporting Comittee.)

The aim was to promote sport at school level and to show the implication and dynamism of the sports association.

Supporting Documents: