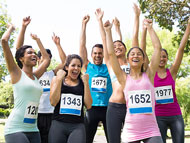 Collection of initiatives aiming at promoting:
awareness of importance of sport at school level
social inclusion and prevent early school leaving
an ethical approach to sport
all types of sports at school level

Title of the initiative:
Integration day for new Year 11 students

Date of the Event:
September, 16th 2015

Country:
France

City:
Maubeuge

Sport:
Badminton, Basket, Dancing, Table tennis, Volleyball

Aims:
promotion of social inclusion and prevention of early school leaving through sport

Description of the initiatives:
The integration half day gathered more than 300 pupils, including Year 11 students for whom this event was compulsory.

Every Year 11 pupil had to sign up in one of the five following activities : zumba, volleyball, basketball, table tennis, badmington. The students who had sports exemption, with the help of a teacher, had to take care of the organization so the event could go well. The aim was for the new pupils to really feel that they belonged to their new school. A student needs to feel that is part of his/her school.

The students with sports exemption really threw themselves into this organization of the five sporting activities. The sport teacher in charge of each activity could slowly let go and only act as an observer.

The students started with the activity they chose and ended practicing the five proposed activities. That led to the need to communicate, to self-discovery and the discovery of others through different practices.

To conclude, their involvement in the activities helped the teaching staff to understand what sports they needed to set up for the upcoming year.

Supporting Documents: