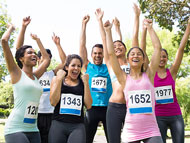 Collection of initiatives aiming at promoting:
awareness of importance of sport at school level
social inclusion and prevent early school leaving
an ethical approach to sport
all types of sports at school level

Title of the initiative:
Sports For Schools

Web site of the initiative:

Date of the Event:
2008 - ongoing

Country:
United Kingdom

City:
National

Aims:
promotion of all types of sports
promotion of an ethical approach to sport
promotion of awareness of importance of sport at school level
promotion of social inclusion and prevention of early school leaving through sport

Description of the initiatives:
Sports for Schools run athlete-led physical activities events to inspire kids (to do more sport), raise money for PE equipment in schools (over £1.75m to date), and support GB and Olympic athletes financially.

They visit 1,300 Primary Schools each year across the UK (that's over 350,000 inspired children!), giving children direct contact with extraordinary athletes (both able bodied and para-athletes).

Now in its eighth year, the most popular and successful event brings the country's top athletes accompanied by an event host (we call them Sportivaters) to run a terrific fitness circuit at a primary school.
What's more, we find every kid enjoys the event – with almost completely no exceptions over the whole 8 years that the scheme has been running. The children are excited to engage in fun physical activities and are encouraged through four different fitness exercises by the Sports for Schools team.
The school hall becomes alive with energy, noise, smiling happy faces and a sense of achievement as the children work together through each circuit station. They are learning, they are active, they are mentally and physically alert as they enjoy the exercise.

Immediately after the activities everyone gathers for an assembly to rest and listen to the sports star speak about their individual sporting experiences, the lessons they have learned in life, and give a spectacular demonstration (where possible). As always, kids' questions during the Q&A continually impress us with their clarity and insight.

Supporting Documents: