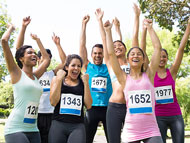 Collection of initiatives aiming at promoting:
awareness of importance of sport at school level
social inclusion and prevent early school leaving
an ethical approach to sport
all types of sports at school level

Title of the initiative:
Get Set to Make a Change

Web site of the initiative:

Date of the Event:
2015 - ongoing

Country:
United Kingdom

City:
Glasgow

Aims:
promotion of all types of sports
promotion of an ethical approach to sport
promotion of awareness of importance of sport at school level
promotion of social inclusion and prevention of early school leaving through sport

Description of the initiatives:
Aims

Rewards: Access to rewards and recognition in return for commitment to the programme. These include:
Meeting an Olympian and a Paralympian at a roadshow event - Certificates for your young people - An invitation to a celebrate event at the end of the programme - The chance to access money can't buy opportunities such as visits from athletes or invitations to exclusive Olympic and Paralympic events

Profile: Your school will be listed on the Get Set to Make a Change website, and through the programme you will get support in sharing your stories through social media and PR

Inspiration: Inspire your young people with Olympic and Paralympic experiences – give them the opportunity to meet athletes at the same time as developing their leadership skills and building their local networks.

Support: Attending a roadshow event will unlock free support for your young people in the delivery of social action projects through Get Set to Make a Change support staff

Drive existing priorities: use the inspiration and support to drive your existing priorities by re-energising your young people and up-skilling them

Build local networks: meet other organisations with similar priorities and ambitions.


Get Set to Make a Change is a brand new education and youth engagement programme from the British Olympic Association and British Paralympic Association. Funded by the Big Lottery Fund, through their 'Keeping the Spirit of 2012 Alive' campaign, the programme uses the magic, power and inspiration of the Olympic and Paralympic Games to empower young people to work together to create positive change in their communities.

How it works

1. Young people aged 14–19 have formed Get Set to Make a Change teams, with six members and two Team coordinators. Called 'Legacy Leaders', they're being given the support they need to organize and run community projects and events inspired by the Olympic and Paralympic Values. The projects encourage people in their local area to come together to take part in sport, be more active and lead healthier, balanced lifestyles.
2. Once they've decided what they want to do, they make a pledge. It could be anything from creating a sports event for a primary school, to teaching older people to Zumba, to running a healthy food stall at a fête. Pledges can be made by young people, or by adults on their behalf.
3. Each team will run at least two projects or events by the end of 2014, aiming to reach at least 20 other people through each project. Some teams will want to do things more frequently and on a larger scale. They will be given the support and encouragement they need: starting with all the materials and advice available on this website.
4. Tracking progress, sharing messages with other teams and celebrating goals achieved are all part of the programme. Once one pledge is completed, the next can start.
5. It's not just for the Legacy Leaders – any young person inspired by the Games can make a pledge and run a project too, either by themselves or by putting together their own team. By signing up and making a pledge they get access to the toolkits and resources on this website.
6. Pledgers get rewards and recognition along the way, with a celebration event in 2015 to recognize everyone's achievements.

The programme aims to help build strong, sustainable relationships between the young people and their communities, with collaborations lasting long into the future.

Supporting Documents: