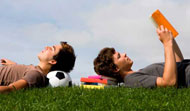 Collection of case studies of school students who succeeded in balancing school career with the passion for sport.
STUDENT INFORMATION

Name of the student:
Romain Jobard

Country:
France

Sport:
Fencing
SCHOOL INFORMATION

Name of the School:
Ozanam
CASE STUDY

The Context:
- I started fencing at the age of 6. My family really supports me, my dad even started fencing as a hobbie. They're here for every competition and help me pay for my material (they pay for my outfit, I pay for the foil). My fencing instructor also supports me and helps me practice.
- With fencing I have the possibility to bond with others, especially during national competitions and I meet many other young European Fencers.
- My high school is not quite suitable for fencers but it allowed me to join the CREFED (fencing regional training center) thanks to a flex time schedule. Without the cooperation of my school, I never would have been able to serenely continue my studies and a high-level sport.
- I think sporting activities are important and should be more encouraged, outside school.

Balancing Sport and Education:
- I practice fencing for about 15 hours a week plus 2 hours of another sport activity.
- I study 35 hours a week.
- I represent my high school during UGSEL competitions (sport federation of the Catholic Education). I arrived second last year.
- I can reconcile my studies and fencing, as I said, mostly thanks to the schedule made by the school.
- As I am dyslexic, my years in middle school were not easy, this is why I decided to choose a professional branch (carpentry).
-I think I found a good balance between my sport and my studies. I could do better in school if I reduced the hours of fencing practice but I cannot do less sport.

Future Perspectives:
- I want to obtain my baccalauréat.
- Concerning fencing, I would like to continue the European competitions to then have an access to thye international ones and prepare for the Olympic Games of 2020.
- I hope I could join the INSEP and learn to be a fencing instructor.
- If I can't do the Olympic Games, I hope I can join the army to be a military athlete.
- My professional life will be about fencing anyway.