STUDENT INFORMATION

Name of the student:
[VF] Victorien Christiaens

Country:
Belgium

Sport:
Athletics
SCHOOL INFORMATION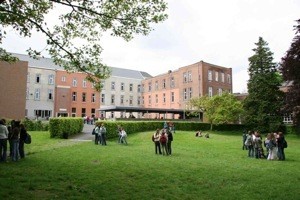 Name of the School:
Collège Sainte-Marie

School Typology:
Collège

Address:
61, Rue Léopold 7700 Mouscron

Tel:
056.85.47.21

Fax:
056.84.37.09

Web site:

E-mail:
CASE STUDY

The Context:
Tout petit déjà, mes parents m'ont inscrit à la natation, afin que je sache nager en cas de problème. C'est là que j'ai appris à aimer le sport, alors j'ai cherché à en faire davantage : basket, gymnastique, water-polo, … C'est en touchant un peu à tout que j'ai pris goût au sport.
Mes parents, ils étaient présents pour me conduire aux compétitions de natation. Ensuite, Ce sont surtout les amis qui me donnaient envie de continuer.
Je pense que c'est dans la difficulté, dans le challenge, qu'on crée le plus facilement des liens avec les autres. Alors oui, ça l'améliore grandement.
Nous avons de la chance de ce côté-là, nous avons une salle de sport collectif, une salle de musculation, et une salle prévue pour la gymnastique.
Je pense que c'est important pour le développement de l'enfant, tant physiquement que socialement. D'ailleurs, 3h/semaine n'est pas assez.
Pas suffisamment… Il y a encore beaucoup trop d'enfants qui ne font aucune activité physique hormis l'école.

Balancing Sport and Education:
Il s'avère que mes études sont dans le sport, donc… j'ai environ 7h de sport par semaine, je n'en fais plus en dehors de l'école. Seulement pendant les vacances, je retourne à l'athlétisme.
Je consacre environ 1 ou 2h par semaine aux études.
J'ai quelques médailles, dont la plupart sont de participation, en natation. Sinon j'ai été 4ème du Hainaut en cadet en saut en longueur et je me suis qualifié pour les championnats de Belgique en 100m en scolaire, avec un chrono de 11''78.
Je n'ai jamais doublé de tout mon cursus scolaire. Je suis actuellement en 2ème Education Physique au Parnasse à Bruxelles et je vais à tous les cours obligatoires, et à la majorité des cours théoriques. Je pense que je suis un élève assez sérieux malgré le fait que je m'y mets toujours à la dernière minute. Cela me réussit pour l'instant.
Cela m'a préparé à mes études actuelles. Même si le niveau exigé est assez élevé, si je n'avais jamais fait de natation ou d'athlétisme, je n'aurais sûrement jamais réussi ma première année.
C'est simple, j'en fais ma formation et mon futur métier.

Future Perspectives:
Je compte continuer le sport pendant encore quelques années. Une fois mon cursus scolaire terminé, j'aimerais travailler à la ville, au service des sports. Mon diplôme me permettra sinon d'enseigner dans le fondamental et le premier degré du secondaire. Je pourrai également allier les 2 possibilités. J'ai pensé aussi à être coach sportif, au sein d'un club ou privé.