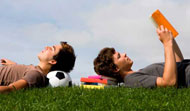 Collection of case studies of school students who succeeded in balancing school career with the passion for sport.
STUDENT INFORMATION


Name of the student:
[VF] Juliette Dochy

Country:
Belgium

Sport:
Gymnastics
SCHOOL INFORMATION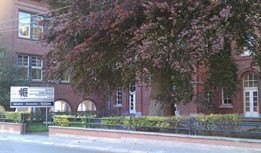 Name of the School:
Institut Saint Charles

School Typology:
Générale et Technique

Address:
7 Rue Curiale 7700 Luingne

Tel:
+32 56 33 15 50

Web site:

E-mail:
CASE STUDY

The Context:
J'ai commencé la gymnastique à l'âge de 3 ans et j'en ai fait ma passion après quelques années. Je n'aimais pas trop ce sport au début, mais mes parents et mon entraîneur m'ont encouragée. Après cette petite phase, j'ai commencé à adorer et à faire des compétitions. Ma famille m'a beaucoup aidée dans mon évolution en gymnastique, ils étaient toujours là pour me conduire à l'entraînement et pour m'encourager lors des compétitions.
Je pense que le sport améliore les rapports aux autres, même si j'ai pratiqué un sport individuel. Le fait de s'entraîner ensemble et de s'entraider lors des entraînements ou de s'encourager pendant les compétitions améliore le rapport aux autres et crée des liens.
Les infrastructures de mon école n'étaient pas très adéquates mais nous nous déplacions en bus pour avoir cours dans de meilleures salles de sport.
Je pense que l'éducation physique à l'école est très importante et permet à tous les jeunes de pratiquer au moins un peu de sport durant leur semaine, pour ceux qui n'en font pas en dehors de l'école.
Je trouve que nous avons beaucoup de possibilités pour pratiquer le sport dans notre pays, nous avons les infrastructures pour beaucoup de sports différents mais on ne reçoit pas assez d'encouragements (mis à part peut-être les joueurs de foot).

Balancing Sport and Education:
Je pratique 15h de sport par semaine. Je faisais 15h de gymnastique par semaine pendant mes études secondaires, mais maintenant que je suis à l'université en éducation physique, je fais encore 15h de sport sur la semaine, mais les sports sont plus variés. Je consacre en plus de mes journées de cours, plus ou moins 1h30 d'étude par jour.
En gym, j'ai participé plusieurs fois aux Championnats de Belgique en Division 2, j'ai également fait des compétitions en France.
J'ai toujours tout réussi à l'école, je n'ai jamais doublé ou je n'ai jamais eu d'examens de passage. Je suis consciencieuse et je me mets en avance pour l'école un maximum afin de pouvoir continuer à suivre tous mes entraînements.
Grâce au sport, j'ai appris très jeune à être organisée et efficace dans mon étude. J'ai toujours fait mon maximum pour avoir fini mes devoirs à l'heure pour le cours de gym. J'ai parfois eu du mal à tout gérer en même temps, mais au final, le sport a eu un impact positif sur ma scolarité. Je ne pense pas que j'aurais pu mieux réussir sans mon activité.
Je m'organisais toujours au mieux afin de combiner sport et scolarité. Je travaillais directement après l'école puis je m'entraînais et quand je rentrais chez moi à la fin du cours, je terminais mon travail. J'étudiais beaucoup à l'avance durant le weekend pour avoir plus facile pendant la semaine. Quand j'avais vraiment trop de travail, je quittais la gym un peu plus tôt pour être en ordre pour l'école.
Je pense que pour pouvoir réussir dans les deux domaines, il faut être organisé et concentré quand on entreprend quelque chose. Moins de temps de travail mais plus de concentration.

Future Perspectives:
Mes projets pour l'avenir: je commence mes études d'éducation physique pour pouvoir continuer dans le sport et pouvoir enseigner plus tard. Je continue la gym mais j'ai réduit le nombre d'entraînements par semaine étant donné que je n'habite plus tout près de mon club. Je continuerai les compétitions mais dans un niveau un peu moins élevé.