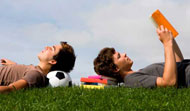 Collection of case studies of school students who succeeded in balancing school career with the passion for sport.
STUDENT INFORMATION

Name of the student:
Stanislav Georgiev

Country:
Bulgaria

Sport:
Volleyball
SCHOOL INFORMATION

Name of the School:
Professional high school "M.V. Lomonosov"

School Typology:
Vocational highschool

Address:
31 Nikola Petrov Str., Gorna ORiahovitsa

Tel:
0035961860618

Fax:
0035961860618

Web site:
lomonosov-go.com

E-mail:
CASE STUDY

The Context:
My passion for sports started from very early age. At the age of 6 I wanted to train volleyball, but I had to wait for one year, because it wasn't allowed for such small kids to train. I like Physical education as a subject. I think more attention should be paid to it. Sport teaches students discipline and is the most effective way to deal with over weight.
I think that lately a lot of attention is paid to sports in our country. I see new sports facilities built, both for indoor and outdoor sports.

Balancing Sport and Education:
I try to train at least 2-3 days per week. Studying I usually do for 2-3 hours a day. My successes in sports are participation in the regional championships for adolescents, qualification for the final of the Republican championship in mini volleyball and second place in the championship on beach volley in Popovo.
With regard to grades - my grades are very good (5.47). Sport taught me discipline, endurance, patience, concentration, adaptability, team work and not to give up. All these qualities help the student to adapt in a new class or a new school, to try to be successful and to improve his knowledge and skills. Balance is the key to success. When you manage to find time both for sports and studying there are no problems.

Future Perspectives:
I don't know if I will be accepted in an university in order to continue my education, but for sure I will continue training and dealing with sports.