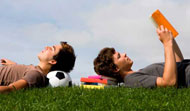 Collection of case studies of school students who succeeded in balancing school career with the passion for sport.
STUDENT INFORMATION

Name of the student:
Said Saidov

Country:
Bulgaria

Sport:
Football
SCHOOL INFORMATION

Name of the School:
Professional high school of electronics and electrotechnics "M.V. Lomonosov"

School Typology:
Vocational highschool

Address:
31, Nikola Petrov, Gorna Oriahovitsa

Tel:
0035961860618

Fax:
0035961860618

Web site:
lomonosov-go.com

E-mail:
CASE STUDY

The Context:
I started to do sports actively in the fourth grade as I joined the football team in my hometown. Everyone supported me and encouraged me - friends, teachers, parents. My family supports me also by coming to almost all my competitions. The school offers good facilities for football, basketball, volleyball, table tennis and many others. Physical education and sports as a school subject is very good also for health, because there are children who are not actively engaged in sports. Athletes in my country are supported by the state, but still there is more needed. According to me there must be greater motivation and support; in an athlete hope dies last.

Balancing Sport and Education:
I spend two hours a day for sports and ten hours in total for the week. Studying takes me three hours a day, around twelve in total for the week. My grades at school are excellent. Sport does not affect my grades in an negative way, on the contrary it helps me because real athletes are disciplined, know how to cope with all the difficulties and never give up. For me studying comes first, but sport is also very important. I balanced school and sport giving everything from myself in both areas. I believe that everything is possible with hard work and most of all with desire.

Future Perspectives:
My plans for the future are to continue sports and studying, but I still haven't decided on what profession to choose.